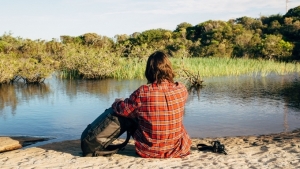 November 28, 2017
GoBag kicks off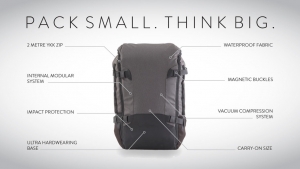 We're delighted that the GoBag 2 Kickstarter campaign has launched and already exceeded its £10,000 goal and is heading up.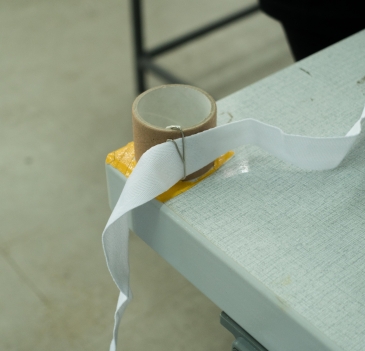 October 23, 2017
Thai-ing up some loose ends…
This month we're back in Thailand, finalising the production set-up for a product launching later this year. We've been developing the product with our client for four years and we can't say much until it's launched but here's a photo of a bit of cardboard engineering (while we wait for a component to arrive) helping to feed some binding tape flat into a sewing machine.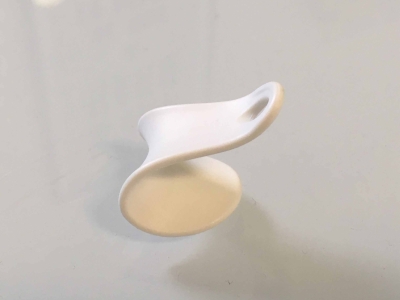 September 21, 2017
No exaggeration, I think saddle points are amazing..
I find saddle points (or hyperbolic paraboloids as they're mathematically known) a deeply pleasing shape. This little hook was developed as part of a large project we've been collaborating on. It's strong and safe as it has no sharp edges.
For more hyperbolic paraboloid and origami joy pop down the rabbit hole that is the website of Erik Demaine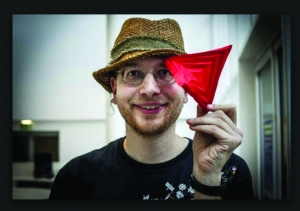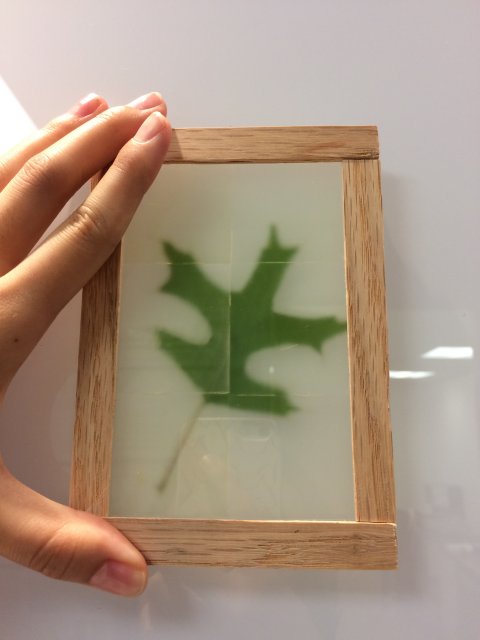 August 15, 2017
Woodn't it be nice….
Wouldn't it be nice to have even natural light in a room regardless of the position of the sun in the sky? One unexpected way to achieve this could be to use wooden panels. Clearly (!) not just an 8′ x 4′ from the builder's merchant but a new transparent material developed At the University of Maryland. The wood is soaked in a solution to remove the lignin that gives wood its brown colour. Unfortunately removing the lignin also removes its strength and so the material then needs to be treated with epoxy to restore it.
Website link: Wood windows are cooler than glass, University of Maryland, August 16th 2016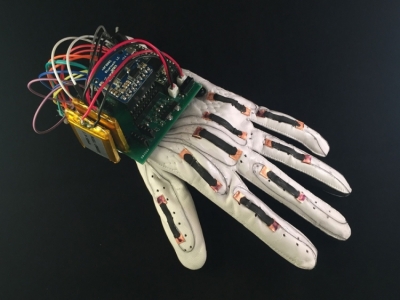 July 17, 2017
Silent language at your fintertips
This glove may look cumbersome but it could seriously reduce the communication burden for thousands of sign language users. It can translate the 26 letters of ASL (American Sign Language) into text and the current version was built for less that $100 using stretchable and printable electronics that are easily commercially available. The glove has the potential to allow sign language users to travel through everyday situations such as train stations or supermarkets without needing a human translator to communicate their questions or needs.
Website link: Low-Cost Smart Glove Translates American Sign Language Alphabet and Controls Virtual Objects, 12th July 2017, University of California, San Diego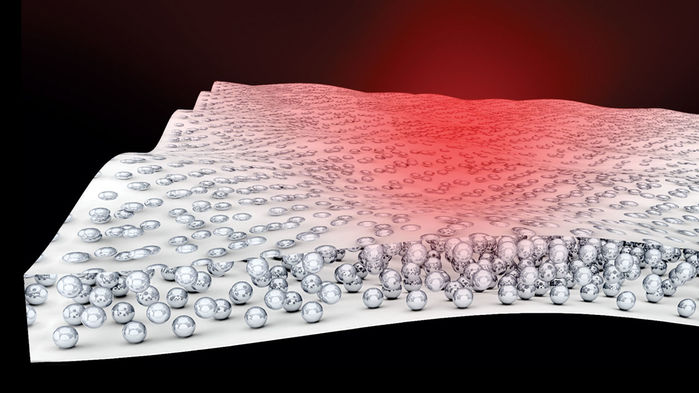 June 21, 2017
It's too hot
I'm British. It's over 30 degrees centigrade. Today I want to be covered in this cooling film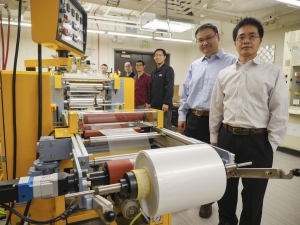 Website link: Newly engineered material can cool roofs, structures with zero energy consumption, 9th February 2017, University of Colorado Boulder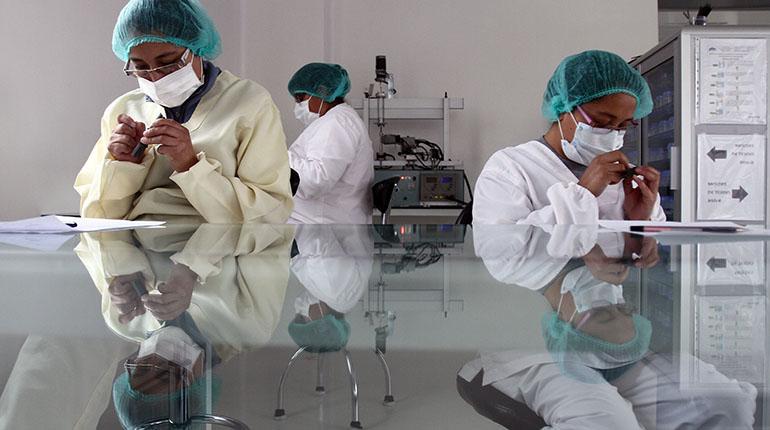 May 18, 2017
Old skills, new product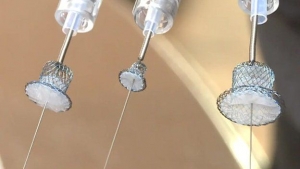 As a child Dr Franz Freudenthal visited indigenous communities in the mountains of Bolivia with his doctor grandmother. On these trips she would quote a snippet of Rudyard Kipling "Something hidden. Go and find it. Go and look behind the mountains. Something lost behind the mountains. Lost and waiting for you. Go!" It seems unlikely he could have predicted the importance of the words or the trips. As a paediatric cardiologist he went on to utilise the weaving skills of the indigenous Aymara women to develop an implant to close 'holes in the heart'.
The device is woven by Aymara women in a clean room environment from a single strand of Nitinol, a nickel-titanium alloy that is superelastic and has shape memory. These material properties allow the woven implant to be compressed inserted into the body via a catheter in the groin and only expanded to its 'top hat' form when it is correctly positioned in the heart.
"The most important thing is that we try to get really really simple solutions for complex problems" Dr Franz Freudenthal, Paediatric Cardiologist
Website link: "A new way to heal hearts without surgery", TED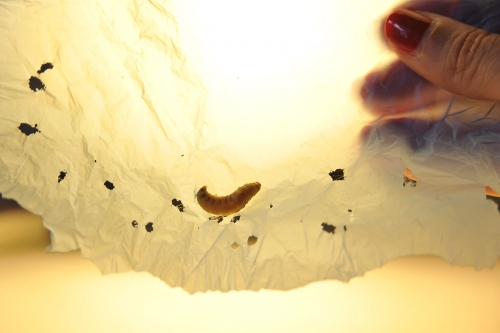 April 26, 2017
The very hungry caterpillar…
…on saturday he ate through one piece of chocolate cake, one ice-cream cone, one pickle, one slice of swiss chesse, one slice of salami, one lollipop, one piece of cherry pie, one sausage, one cupcake, and one sliece of watermelon….and 184mg of supermaket plastic shopping bag.
The Galleria mellonella larva is a very hungry caterpillar indeed.  An amateur beekeeper, Federica Bertocchini, happened upon their amazing digesting and degrading abilities when removing parasitic pests from the honeycombs in her hives. The worms were temporarily kept in a typical plastic shopping bag that became riddled with holes. Bertocchini, from the Spanish National Research Council (CSIC), collaborated with colleagues Paolo Bombelli and Christopher Howe at the University of Cambridge's Department of Biochemistry to show that  "The caterpillars are not just eating the plastic without modifying its chemical make-up. We showed that the polymer chains in polyethylene plastic are actually broken by the wax worms," said Bombelli.
This discovery might lead to a biotechnological solution to the approximately one trillion palstic bags used each year worldwide.
Website link: Caterpillar found to eat shopping bags, suggesting biodegradable solution to plastic pollution, 24th April 2017, University of Cambridge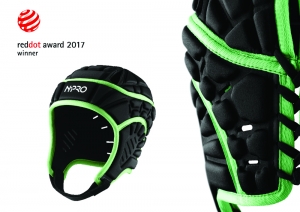 April 17, 2017
reddot award for N-Pro scrumcap!
Great to see all the hard work that went into this product being recognised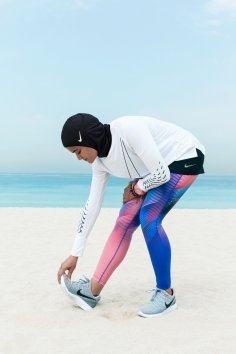 March 13, 2017
Nike Pro Hijab – a modest improvement
Great to see Nike have launched a sports Hijab. In 2014 we worked with the pioneering and inspirational Iranian triathlete Shiz Gerami to develop sports clothing that met the Iranian ministry of sport's modesty requirements, but did not impact on Shiz's performance in the World triathlon championships. We were delighted to work with her to remove barriers for female athletes who wish to be modestly dressed while exercising. Statistics from Sport England show that just 18% of Muslim women take part in regular sport, compared to 30% of the total female population.
Website link: Shiz Gerami interview, Triathlete magazine, January 19th 2017
Website link: Nike unveils Pro Hijab for female Muslim athletes, Dezeen, March 8th 2017